WHAT IS CREDO ?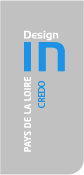 CREDO (Cooperation in Research and Education for Design Options) is a triennial framework programme for design research signed in June 2006 by L'Ecole de Design Nantes Atlantique, the CCO (Western Cultural Center) – Royal abbey of Fontevraud, Cumulus, international association of higher education institutions in design, art and media, and the Pays de la Loire regional council.
The CREDO workshop series are meant to be a platform for the confrontation and sharing of design practices and methods. Industrial design and interaction design are the main domains concerned. The workshops are intended to be active and project-oriented, a space where design education institutions all over Europe can share current contemplations in the field. The idea is to communicate to the general public, via a "scenario" what the design process is all about. It will explain and illustrate how designers render a prospective view on the future. The notion of eco design, sustainable development and the global responsibility of the designers are especially emphasized.
All CREDO workshops are scheduled at the royal Abbey of Fontevraud, near Saumur (France) in the Loire Valley. The abbey is an active multidisciplinary cultural centre and is also part of UNESCO's World Heritage.
CREDO is part of the Design In Pays de la Loire programme for design promotion.