GETTING TO CREDO
The abbey of Fontevraud is located near Saumur, at the border of three regional areas (Pays de la Loire, Centre and Poitou-Charentes). The road distance between Saumur and Fontevraud is about 15 kms (20 minutes by car).
There are several solutions for getting to the the abbey, depending on your city of departure of course…
However you plan to get there, you should follow these guidelines :
- Reach the nearest big city by plane or train : either Nantes or Tours.
- Get to Saumur or Chinon by train (150 kms from Nantes, 70 kms from Tours).
- Finally reach Fontevraud by bus, taxi or special shuttle.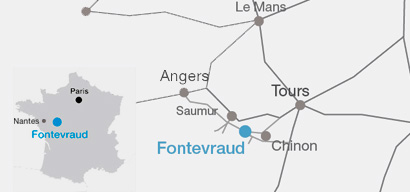 Travel by plane :
There is an international airport in Nantes and in Tours.
Check Air France, British Airways or Ryan Air for flights.
In Nantes, there is a direct shuttle service to the SNCF train station.
Travel by train :
With the hi-speed train (TGV), Nantes is only 2 hours and Tours one hour away from Paris. You can then reach Saumur by regional intercity trains (one hour from Nantes, half an hour from Tours).
Check the SNCF's website for tickets and connections.
Travel from Saumur by bus :
There's a direct connection from Saumur to Fontevraud (35 minutes trip, the last bus leaves Saumur at 7:15 pm).
Get the access map to the abbey.